En dépit du risque qui les guette, les enquêteurs se laissent envahir par ce sentiment de vouloir connaître la vérité qui se cache derrière cette énigme. Sur la scène de crime, le corps sans vie, qui jonche au sol, représente une autre atrocité du tueur.
Le chef : Après l'analyse de la scène de crime, le meurtre n'a pas été prémédité comme l'indique les indices sur le lieu du crime. Le seul témoin oculaire, qui a pu voir ou reconnaître l'instigateur des attentats à la bombe, a été pris dans l'action du moment qui l'a conduit vers la mort. La victime s'était ainsi trouvée au mauvais endroit et à un mauvais moment.
Mais l'enquête prend un nouveau tournant lorsque Lapsus semble reconnaître la victime. Sous les traits d'une personne qu'elle a déjà rencontré dans le passé, Lapsus perd soudainement l'usage de la parole comme si les mots précédemment prononcés par Lapsus n'étaient destinés à être entendu que par les oreilles d'un mort, mais dont l'importance pouvait se révéler cruciale pour l'enquête. C'est que Lapsus avait déjà franchi les portes de cette demeure méconnaissable dans l'obscurité, dans le passé puisqu'il s'agit de la première personne qui l'avait mené jusqu'au "paradis terrestre". Intimement persuadée que ces actes flagrants lui sont destinés, Lapsus, malgré elle, fait vivre l'enquête en devenant la "muse" de son bourreau. Comme une invitation à la mort, elle accepte en quelque sorte ce duel paradoxalement "amoureux".
Lapsus : Il s'agit d'un meurtre prémédité ! Le corbeau suit la trame de mon enquête dans le sens inverse en remontant le temps jusqu'au jour où nous nous sommes rencontrées. L'ordre chronologique des faits est "conté" à rebours comme une histoire.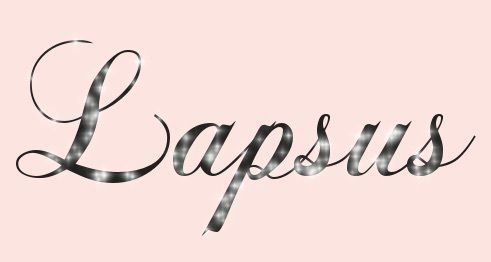 Despite the risk that is lying in wait for them, the investigators are letting themselves invade by this feeling of wishing to know the truth that hides behind this enigma. On the crime scene, the lifeless body, that is littering on the ground, represents another atrocity of the killer.
The chief : After the analysis of the crime scene, the murderer hasn't been premeditated as it indicating the clues on the crime scene. The only eyewitness, who could have seen or recognized the instigator of the bomb attack, has been undergone in the action moment that has led him to the death. The victim had, so, been founded in the wrong place and in the wrong moment.
But the investigation takes a new turning point when Lapsus seems to recognize the victim. Under the appearance of someone that she has already met in the past, Lapsus is suddenly loosing the power of the speech as the words previously pronounced were just fated to be heard by the ears of a death one, but of which the importance could be revealed crucial for the investigation. It's that Lapsus had already crosses the gates of this unrecognizable mansion in the darkness, in the past because it's about the first person who has led her till reaching the "terrestrial paradise". Intimately persuaded that these flagrant acts are fated to her, Lapsus, despite herself, brings life to the investigation by becoming the "muse" of her executionner. As a death invitation, she accepts in somehow this paradoxically "beloved" duel.
Lapsus : It's a premeditated murder ! The crow is following the frame of my investigation in the reversed way by going back in time until the day when we met each other. The chronological order of the facts is like a storytelling book from the last page to the first page.
Les textes et les images ne sont pas libres de droit. Merci de contacter l'auteur. The texts and images are not free of right. Please contact the author.