Depuis le début de cette enquête sur les lettres mystérieuses, Lapsus ne se parfume plus. Cette affaire est un véritable casse tête pour les enquêteurs de la cellule criminelle. Les meurtres se succèdent et ne se ressemblent pas par leur cruauté mais tous ses crimes ont un seul point commun: les lettres. Cette série de meurtre a un véritable parfum de scandale.
Réveillée en pleine nuit par la sonnerie de son téléphone, Lapsus reconnaît la voix de son chef.
Le chef : Dépêchez-vous ! Un drame s'est produit à la Villa Palmée! Je vous attends pour un briefing !
Lapsus : J'arrive !
Le chef : Il agit vite !
Lapsus soupire fortement. Son téléphone sonne de plus en plus fréquemment depuis le commencement de cette investigation.
À l'entrée de la villa Palmée, le chef l'attend.
Le chef : Lapsus ! ici ! Il faut que je vous parle ! Le parc floral était bien ouvert au public ?
Lapsus : Oui, la semaine dernière ! Qu'est ce qui s'est passé ?
Le chef : Regardez la fontaine ?
Lapsus arrive à distinguer la fontaine. Choquée par ce qu'elle voit, Lapsus est en face de l'horreur.
Le chef : C'est bien un tueur en série ! Je pense que vous allez avoir besoin d'aide !
Le tueur en série a encore frappé. L'enquêtrice, Lapsus a sa propre méthode de travail qui est souvent perçue inadéquate ou pour de la folie par ses pairs. Lapsus va se confronter à des obstacles de taille avant de réussir sa mission.
Le chef, en ricanant discrêtement : Hahahaha ! Elle va encore lapsuccer!
Malheureusement pour elle, son chef ne la prend pas du tout au sérieux.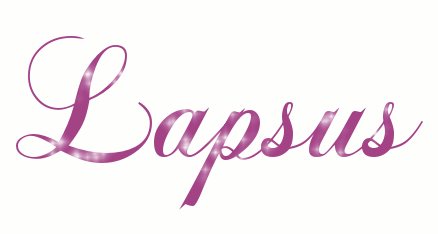 Since the beginning of the investigation on the mysterious letters, Lapsus doesn't wear a perfume. this criminal case is a real tough nut to crack for the investigators of the criminal department. The successive murders are differents by their acts but all the crimes have one thing in common : the letters. The criminal case of this serial killer has a perfume of scandal.
Awaked by the ring of her telephone call in the middle of the night, Lapsus recognizes the voice of her chief.
The chief : Hurry up ! Something bad happenned at the villa Palmée ! I'm waiting for you for a briefing !
Lapsus : I'm coming !
The chief : He acts fast !
Lapsus is breathing deeply. His phone is ringing more and more often now since the beginning of the investigation.
At the entrance of the villa Palmée, the chief is waiting.
The chief : Lapsus ! here! I need to talk to you ! Was the floral park opened to the public ?
Lapsus :Yes, the last week ! What is going on ?
The chief : look at the fountain ?
Lapsus can distinguish the fountain. Shocked by what she's seeing, she is facing the horror.
The chief : It's a serial killer ! I think you will need a helping hand!
The serial killer won't stop now. The investigator, Lapsus has her own working method that makes her unique. Often described as "crazy", she needs to pass through all the obstacles in order to succeed.
The chief, sneering discretly : Hahahah ! She is going to lapsus again !
Unfortunately for Lapsus, her chief is not taking her seriously.