Les noms de Signature et Pardi figurent dans le registre des noms. Parmi les différents noms des patients de l'hôpital, Lapsus a soigneusement gardé en mémoire les numéros de chambre des deux enquêteurs. En enlevant sa blouse blanche, Lapsus quitte son rôle d'infirmière.
Depuis l'attentat à la bombe sur la ville, les journées de l'enquêtrice Lapsus sont rythmées par les lectures des parutions quotidiennes du journal. Sur le banc de l'étage des patient de l'hôpital, le journal du jour est délicatement posé à côté de revues de charmes comme si quelqu'un les avait déjà lu. À la lecture du journal, les recherches sont au point mort concernant l'enquêteur Eyroll. Les différents témoignages des personnes présentes sur la scène de crime sont relatés dans la colonne "Faits divers". Frappée par une pensée soudaine, Lapsus peut donner un nouvel élan à l'enquête avec les témoignages cruciaux des deux personnes les plus concernées : Signature et Pardi. Bien que les indices et les preuves soient malheureusement perdues dans l'explosion, certains fragments de la vérité résident encore dans la mémoire des enquêteurs Signature et Pardi.
Tout à coup, le téléphone mobile de Lapsus vibre intensément, signalant un appel entrant. Dans son sac à main, la main de Lapsus se balade de droite à gauche à la recherche de l'objet vibrant. Tout en regardant un patient entrain de feuilleter un magazine de charme, Lapsus fait durer le plaisir en secouant de tous les côtés les objets se trouvant dans son sac. Les gestes non obscènes provoquent le sourire géné du patient lorsqu'elle s'asseoit outrageusement sur son sac comme subjuguée par les images qu'elle vient de découvrir.
Lapsus : Je me suis assisse sur le chef ... Zut ... pardon ...
C'est alors que les enquêteurs Signature et Pardi entendent le monologue incongru de Lapsus.
Pardi : T'entends ça, Signature ? J'en étais sure.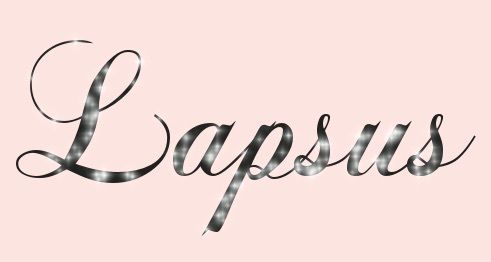 The names of Signature and Pardi are appearing in the register of the names. Among the different names of the patients of the hospital, Lapsus has carefully kept in memory the room's numbers of the two investigators. By taking off her white coat, Lapsus Is quitting her playing role of nurse.
Since the bomb attack on the town, the journeys of the investigator Lapsus are rhythmed by the reading of the daily publication of the newspaper. On the bench of the patient's floor of the hospital, the daily newspaper is delicately put down, next to a soft-core magazine as if someone has already read it. At the reading of the newspaper, the research of the investigator Eyroll is at a standstill. The different testimonies of the people present on the crime scene are related on the column " news in brief ". Stricken by a sudden thought, Lapsus can give a new start to the investigation with the crucial testimonies of the both persons the most concerned : Signature and Pardi. While the clues and the proofs have been unfortunately lost in the explosion, certains fragments of the truth are still kept in the memory of the investigators Signature and Pardi.
All of a sudden, the mobile phone of Lapsus is vibrating intensevely, noticing an upcoming call. In her hangbag, the hand of Lapsus is dragging around at the research of the vibrating object. By watching a patient who is flipping through a soft-core magazine, Lapsus makes the pleasure last by shaking in all directions the objects that are in her bag. The non obscene gestures are provoking the embarrassed smile of the patient when she is sitting down outrageously on her bag as captivated by the images that she is discovering.
Lapsus : I have sit down on the chief .... Damn... Pardon...
It's then the investigators Signature and Pardi are listening the inappropriate monologue of Lapsus.
Pardi : Did you hear that, Signature ? I was sure.